Meet Freddie Reynoso
Freddie Reynoso is the owner & operator of Sting-Rey Pest Control, ltd. He will personally make sure each and every customer receives quality service.
Freddie has been in the pest control business since 1991. He got his start with a major pest control company in the Palm Springs area of southern California. He has gained experience and knowledge by working with several major companies here in the Las Vegas area. He is highly experienced in residential and commercial pest control service and has experience in treating homes, apartments, casinos, restaurants, bars, warehouses, supermarkets, and golf courses.
Freddie has been a resident of Las Vegas for over 30 years. He is an expert when it comes to the pest problems that are experienced when living in the desert. His experience can help solve problems with scorpions, bees, rodents, ants, cockroaches, spiders, crickets, bed bugs, and a number of other pests. Freddie continues to stay knowledgeable in his field by taking courses continuously learning about different methods, and staying up to date on the latest chemicals and products. Freddie is a firm believer in safety first. He cares about your family, children, and pets' safety, which is why he offers organic, kid, and pet safe products.
All he asks is for the chance to prove that he is sincere in his promise to give quality service. He will be there when you need him!
Contact Us Today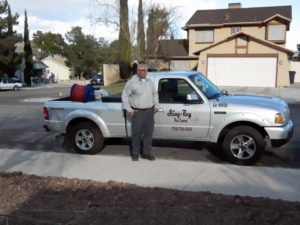 Our Values
Integrity

Hard work is the cornerstone of our success. Whether it is working to keep your family safe or staying educated, we pride ourselves on an unmatched work ethic.

Knowledge

Constant educating ourselves is how you know we will keep your family safe and your home pest free.

Safety

We use only the safest, environmentally friendly materials to ensure the well-being of your children and pets.